The Structure and Ideology of Khachkar Composition
The Cross as victorious weapon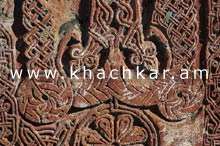 The composition of the khachkar represents the ideology of the victorious cross as well; the basis for this, first of all, is the salvation of the Crucifixion of Christ and by that his victory upon death. The military appearance of the cross was also influenced by the ritual of baptism, by the stories of the destruction of hell by Christ, and the visions of Constantine the Great and Grigor the Enlightener. As a result, the cross became the main weapon of various struggling saints and church officials and had its different illustrative manifestations. The similarity of the outer shape a sword and the cross could also be a basis for this manifestations (the upper rectilinear wing of the cross is the handle, the horizontal wings the divider and the rectilinear bottom wing - the sword blade).
The protective feature of the cross is described in details in khachkar inscriptions. The cross is described as the victor over enemies and a non blunting weapon sharpened by holy blood, inaccessible fortress, etc. Several inscriptions detail that the very stele is blessed by the blood of the creator. The fact that the sanctification of the cross carved on the stele in reality meant sanctification of the stele could become the basis for such claims: the blessing gives certain sanctity not only to the cross but to the stele bearing the cross as well. The sanctification was considered also as a gesture of forging: just as blacksmiths forge a sword to strengthen it the cross is was forged during Christís crucifixion by his blood. Some inscriptions give a basis to restore the "assaulting" feature of the cross.
The widespread socialization of the image of the fighting cross and khachkar were very contemporary for the Armenian medieval ages. When foreign invasions and destructions were a very common phenomenon and war became a required part of life, these steles, as mirrors of identity, should include and reflect these emotions as well. In the khachkar composition the rectilinear palm decoration that is placed immediately under the cross sometimes has knotting bends and snake-like knobs, that can be compared to the dragons that coil under the cross-like arrows of saints.



Click for Gallery