The Structure and Ideology of Khachkar Composition
The structure of the composition, symmetry and asymmetry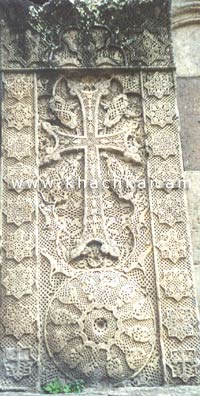 The structure of khachkar composition is stipulated by elements of the asymmetrical cross, which communicates the extension of the composition along vertical and horizontal axes with an emphasized vertical axis. The cross in the vertical axis of the composition is not only playing the central but also middle position. It leans on vertical (and/or horizontal) palm decor and on a rosette that is situated below the palm decor (on a triangle, pedestal, stairs, arches, church structures etc.). Under the cross (or toward the bottom from the cross) are depicted Adam and mortals, animals, water or land birds, reptiles. On the upper part from the cross grape rods, pomegranate or similar images are depicted. On the upper part of the niche or immediately above it on the cornice are depicted the Sun and the Moon, Jesus Christ, Holy God mother, various saints, high soaring birds, or birds regarded as birds of paradise. These components and elements that are situated below or above the cross convey that the khachkar composition has a vertical structure consisting of three parts.
Another characteristic element of khachkar composition is that the trinity is clearly visible also along the horizontal axis. And this trinity not only is conveyed by the structure of the cross (vertical axis and right and left wings), but also is visible due to several compositional components - left and right palm decors (grape and pomegranate fruits, luminous signs, twin birds, etc.), right and left crosses, vertical corner belts, etc. This trinity can be also confirmed by other components of the vertical composition: on the level of the cornice and the bottom part of the cross.
In many of khachkars the composition, if we omit the technical deviations or imperfections, appears as an example of a structure and ornamental symmetry. But the number of those khachkars with compositions that, with their horizontal symmetry have obvious ornamental asymmetry, and that are based on the christologocal perception of the left and right, is not small. Thus the khachkar composition as a principle has a vertical and horizontal triple structure, horizontal structural symmetry (sometimes even ornamental symmetry) and vertical structural and ornamental asymmetry.



Click for Gallery